Next week bioprocessH2O will be attending the Craft Beverage Expo in Oakland, CA to display our water treatment technologies. The Craft Beverage Expo provides cutting edge technology, presents research and practical experience for the craft beer, wine, cider and distilled spirits industries.
Beer is typically made up of more than 90% water. Although the perception is that water has no taste, in actuality it has a profound effect on the beer's flavor profile. For example, the world famous Pilsner was born in the Czech Republic with a water supply that contains limited mineral content and water "softness" that defines the beer style. Water chemistry is often adjusted according to beer type to ensure the best flavor for your brew. It is well known that small amounts of sulfate and chloride can accentuate the hop "punch" and "mouthfeel" in a beautifully crafted IPA.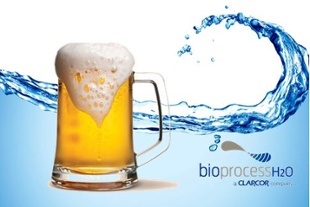 On average, craft brewers use 5 gallons of water to produce 1 gallon of beer. Much of that water contains high concentrations of organic matter and ends up as wastewater requiring treatment and disposal. bioprocessH2O can provide treatment solutions to allow this water to be treated and reused in the brewing facility for non-potable use.
bioprocessH2O provides the best available technologies for the treatment and reuse of process water from a variety of industrial applications including craft breweries, wineries and distilleries.